The photovoltaic yarn consists of conductive yarn and spherical solar cells (φ1.2).
Spherical solar cells are arranged in one direction between two conductive yarns and electrically connected in parallel.
With this structure, the conductive yarn area can be bent and deformed, so the flexibility of the photovoltaic yarn can be maintained.
The photovoltaic yarn is not waterproof.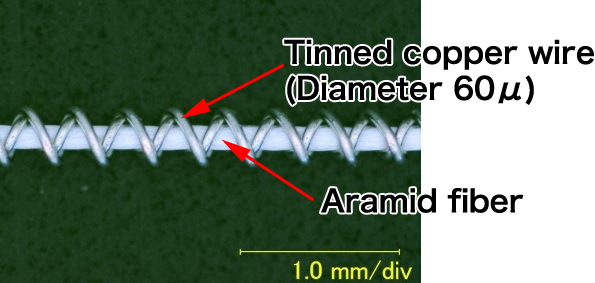 Structure of the Conductive yarn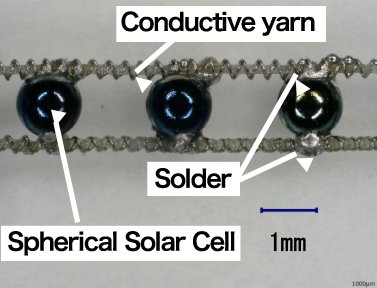 SPHELAR® YARN
Sales content
Sales unit: 1 bobbin (8 m)
[Details]
Approximately 820 mm (spherical solar cells φ1.2 x 341 pieces) of spherical solar cells are provided with 100mm of conductive yarn only at each end.
Eight units are continuously wound on one roll.
[Reference]
Power generation performance (average value) for one spherical solar cell (φ1.2)
| Isc(mA) | Voc(V) | Pmax(mW) | Ipm(mA) | Vpm(V) |
| --- | --- | --- | --- | --- |
| 0.26 | 0.54 | 0.098 | 0.23 | 0.43 |
Power generation performance changes depending on the environment such as illuminance and background color.
Please contact us from "Contact Us".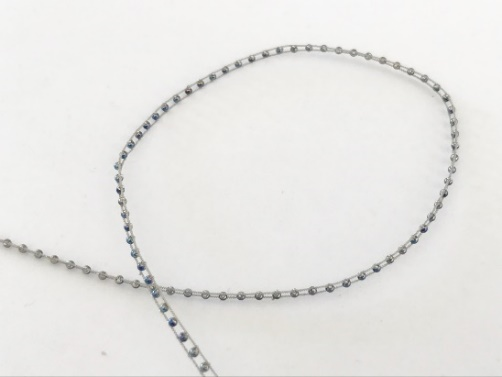 SPHELAR® YARN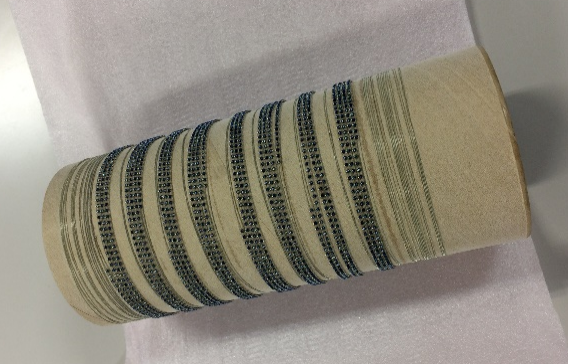 Image of 1 bobbin (8m)