Sphelar® makes solar energy more emotional.
Not only to provide solutions for our business partners, but also to propose delightful experiences in daily life with our philosophy: That's our second mission.

Sphelar Penguin
This penguin objet employs the spherical solar cell Sphelar. When receiving light, the penguin will "wake up" and the LED of the eyes will shine green.
Penguins are in a crisis situation due to global warming. This objet contains the wishes that clean solar energy using Sphelar spreads more, ensuring a more hopeful future for the endangered penguins and our planet.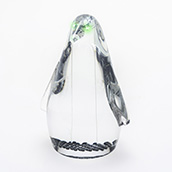 Sphelar Lantern
Hourglass-shaped solar lantern making use of Sphelar® in the upper side and LED lamp in the other side.
Capturing light from all directions, Sphelar® 'memorizes' the light by window all through the day. This product can be turned on, just as with an hourglass, by turing it over.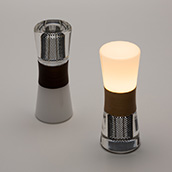 Sphelar Stick
A cylindrical solar flashlight which has been difficult to realize with the conventional flat plate solar cell. With bright LED delivering 500 lux at 1 meter, it is bright enough for cyclist at night.