Spherical Sphelar solar cell, LED, and battery are all-in types.
Sphelar® module itself is also lit.
The LED color can be selected upon request.
Sphelar® modules are suspended like a fruit, so there is no need to consider the angle and location of the solar cell.
When sunlight hits the Sphelar® module during the day, it is converted into electrical energy and stored in built-in rechargeable battery.
When the weather is fine, it will light for about 6 to 8 hours after charging for about 6 to 8 hours (approximate).
At night, the LED automatically lights up using electricity charged during the day.
Lighting time depends on the area, installation location, season and weather conditions.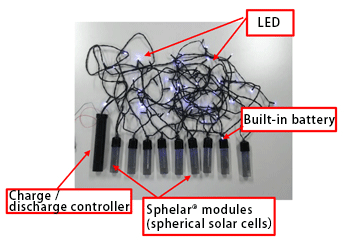 Implementation results
July 2019
On the site of "Sentopyua Ⅱ" in Higashikawa, Kamikawa-gun, Hokkaido